---
Catholic Productions is a Catholic media company owned and operated by Michael and Brian since 2006.
---
It would be nice if I could say we met as we were leaving an adoration chapel, walking out of mass... or perhaps at a food shelter... or at minimum at a youth group meeting, right? ... but you'd be wrong.

We met a poker game. And, it would be lying if we said otherwise :-).

Whew... Glad that's out in the open now and the air is clear...

This was around 2003 and unbeknownst to us, that fateful $10 game (which we both lost in) would lead to a friendship that has begotten a lifelong pursuit to amplify the Biblical roots of the Catholic faith that neither of us could have even begun to consider. In hindsight, it seems apparent, however, that if God can pull water from a rock, he can begin to schematically coordinate major life-long plans for two half-wits in a card game: you just have to have "eyes to see and ears to hear," someone once said (even if it takes a few years).

The next time we spoke was the following Good Friday at what is known as "The Nine Church Walk" in New Orleans.

On Good Friday, numerous groups of people and families gather in New Orleans to carry large crosses and walk to 9 different churches throughout the city, meditating on the Way of the Cross (a convergence of sorts between the Stations of the Cross and a Novena).
---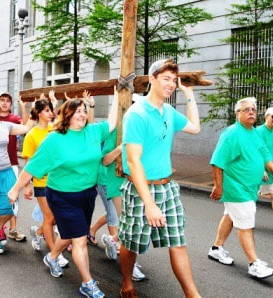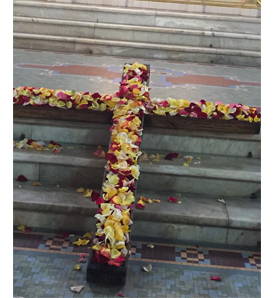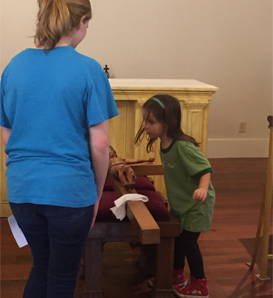 ---
We ended up carrying a large cross together for a portion of the walk, and, of course, we discussed what all people -- especially philosophy and theology students -- discuss on Good Friday: G.K. Chesterton and the formal logical fallacy a comic strip made about Rene Descartes' Cogito Ergo Sum ("I think, therefore I am"). Clearly, looking back on it now as we write this, all of it has worked out in spite and not because of us.

In any event, time passed, Michael completed his theology degree, and Brian returned from a brief stint of graduate school in Boston in 2005.
---
In 2005 we rented a house with 2 other friends (Roch and Timmy). How the realtor ever agreed to that, we still don't know. One of us told her we were "daily eucharistic communicants," in the hopes it would get her to trust us more, but we think that kind of just added to her hesitation. Nevertheless, God performed yet another miracle, and it was there that we started what is now known as Catholic Productions.

It started as a company offering two main services: screen printing and audio recording. Timmy, with a background in screen printing, was our entry way to the world of textile decorating, which we have used for years to help supplement our ability to continue producing media.
---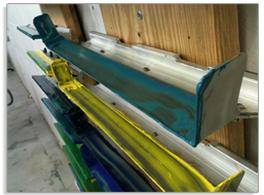 ---
And, since Michael had a background in music and exposure to studio recording in college, he offered to record one of his professors giving an in-house Bible study on St. Paul's Letter to the Ephesians. Shortly thereafter this professor was asked to present at a local Catholic bookstore and that presentation was ultimately produced by our newfangled Catholic media company.
This obscure and undistinguished Ph.D. that Michael recorded went by the name of Brant Pitre, who is now a best-selling author and internationally acclaimed (at that time, however, every other phone call we took went something like, "No, it's not pronounced Pie-tur"). :-)
---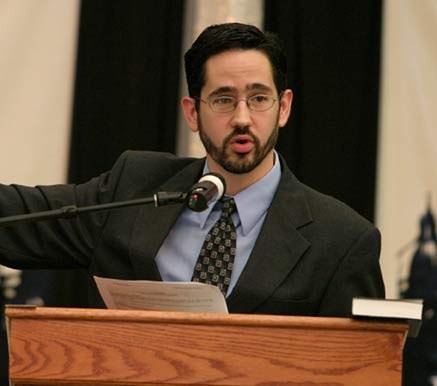 ---
The conspicuous interest that Dr. Pitre garnered from the few Bible studies he led was very surprising to us all. The reaction was something like that of having a pitcher of water for people heavy laden in the desert. So, we proceeded to keep recording Brant, producing his Bible studies, and making them available to the local community.  

In sum, at this point what you effectively had in 2005 was a few philosophy and theology students trying to get a Catholic media company off the ground in the hopes that it could lead to a future career/vocation that we could dedicate our lives to. Sounded like a perfect plan to us. After all, we were philosophy and theology students… what could go wrong?

A few months went by and Michael went to World Youth Day (Germany) in August of 2005, and upon his return, that's when it happened…
---
How it all nearly ended...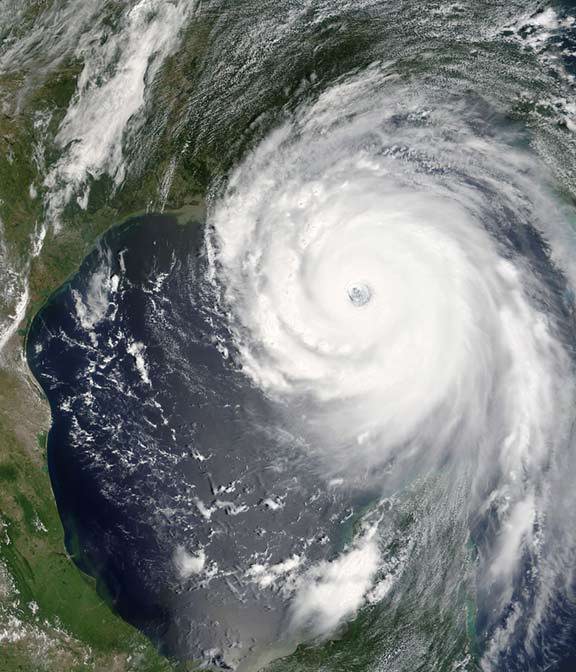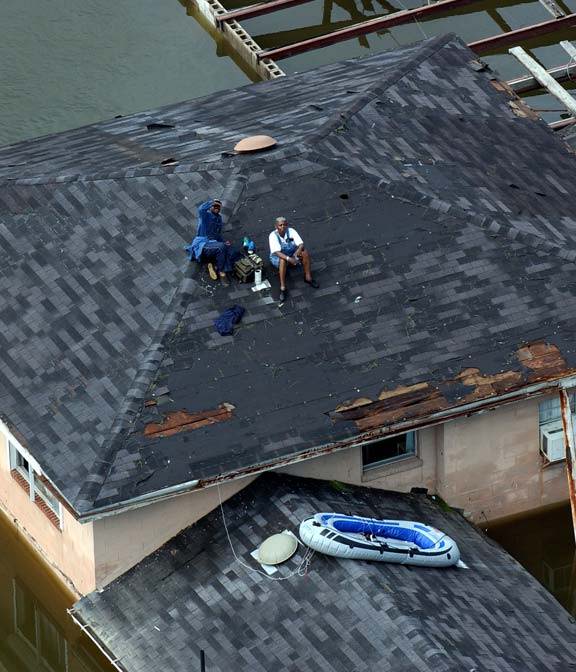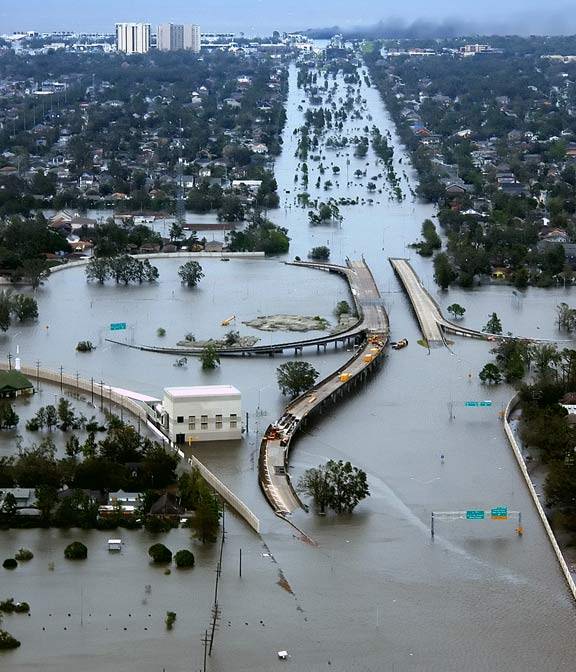 ---
Hurricane Katrina, a storm unlike any that our area had ever seen in so many regards, plowed through and, quite frankly, decimated our city, causing unprecedented flooding, destruction, and loss of life. The scene was that of a war zone for weeks in New Orleans, and we were displaced to Lafayette, LA for that time (which was providentially when Michael rekindled a friendship with his now-wife, Lindsey).

When we returned to the destruction, we found ourselves at a fork in the road. For, Timmy and Roch moved on to school out-of-state, and we were left with the glaring decision — one that has shaped the rest of our lives since: Do we call it quits and "move on" with our lives… or is God calling us to push through this tumultuous event because he can use us and whatever minor gifts we have to help make his living Word become a "light on a stand…[which] gives light to all in the house" (Mt. 5:15)?

With the 2 other founders of this venture moving on, we decided to stick with it. We both moved in with Michael's parents and persisted through what was perhaps the most unstable time of our lives, and yet -- looking back on it now -- what probably hardened us, thanks be to God, to be able to withstand all of the future struggles we would encounter ahead (like Brian one day almost burning Michael's parents' house down). Shortly after moving in with Michael's parents, Catholic Productions proper was formed.
---
To make a long story short, after a year or so, we moved out of Michael's parents' house and began renting a small office. Brian then married his lovely wife, Caroline, in January 2007 and Michael married his lovely wife, Lindsey, in June 2008. There was no turning back then; we had to make this work, as we assumed the responsibility to support our families. And, through much peristance, trial, and error we learned that if we dedicate ourselves to the the vision we've had from the beginning to provide valuable Bible studies to strengthen the faith of our brothers and sisters, God cannot be outdone in generosity.
---
Many years have now passed and, all praise be to God, it has been nothing short of a miracle that we are still plugging away.

Each of our families now have multiple children that we support through our apostolate/company, and it is our intention that until we last draw breath we will continue doing what we can to enhance your spiritual life by strengthening, fostering, and developing an intimate relationship with the living God through the living Word of God.
---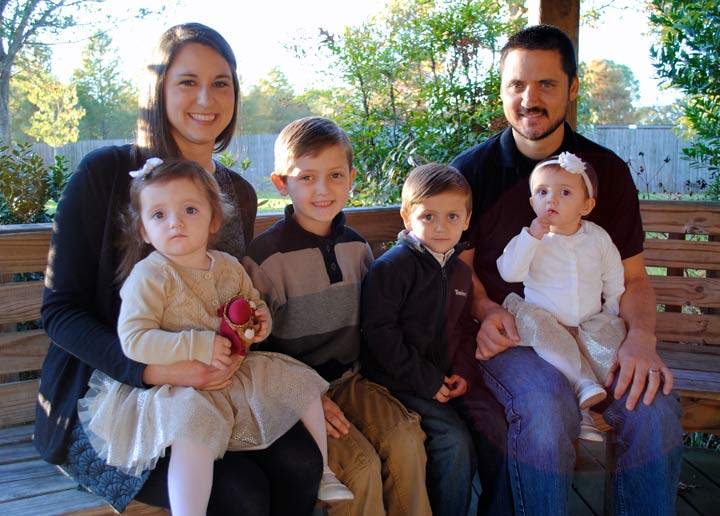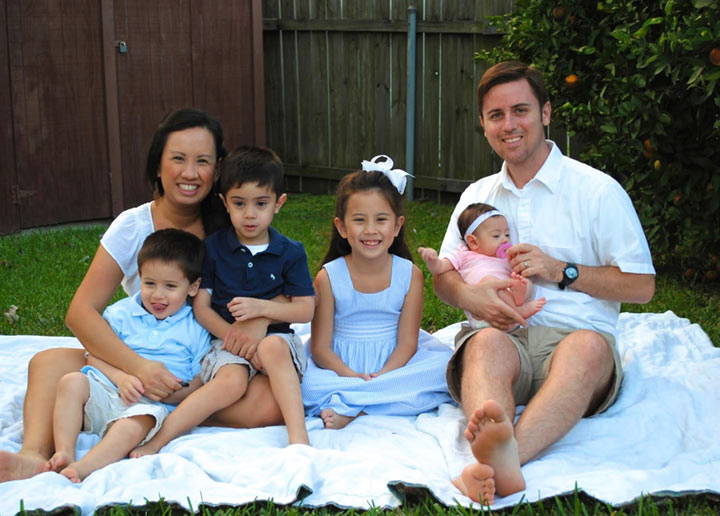 ---
To wrap up, this pursuit was not really something that we saw clearly or set out after. In a sense, it would be much fairer to say it found us. We merely saw a piece of the puzzle that appealed to us and trusted in God's providence… and we hope to continue doing the same for years to come.

Thank you for taking some time to learn about our past. Nothing about it is altogether grand or special, and it is perhaps similar in many ways to most of your lives. As such, we just end with two final things we have picked up along the way that we hope you might consider implementing in your life:  

(1) For those who may be considering pursuing the will of God through a path less traveled: (a) Pray, pray, and... pray. (b) Discover what makes you "come alive" through the gifts God has given you through a period of time spent on self-awareness (and preferably with a spiritual director). (c) Lean into your fears and unceasingly pursue your goals that have as their end to magnify God. We're all playing in our Father's sandbox after all - so do something great for him - he's in control and he loves you. d) And, therefore you can trust that he will provide. And, did we mention…never…cease…praying?

(2) We hope that for those of you who enjoy the Bible studies from Catholic Productions that you can take what you've learned and share that knowledge to make the most compelling case for the Gospel. Like the apostles who received the Gospel and were commissioned to evangelize, please take what you glean from the things we produce and implement them, explain them, and share them with others to draw all men to Christ. We hope to serve that end, at whatever capacity in your life, so that you can become a witness to others.

God bless you, and we pray that we will all meet face to face, if not in this life, in the next where He will indeed make all things new.


Michael and Brian
---